What is poledance?
Poledance is a form of training where you work with a pole. In poledance you work with your whole body and you build up a lot of strength in the arms, shoulders, back and torso. The concept of poledance as a sport in Sweden dates back to 2006, after pole became a popular form of fitness in 2000 and pole dance competitions began to attract attention and become popular. Dance is today a big part of poledance and the sport has influences from ballet, acrobatics and gymnastics.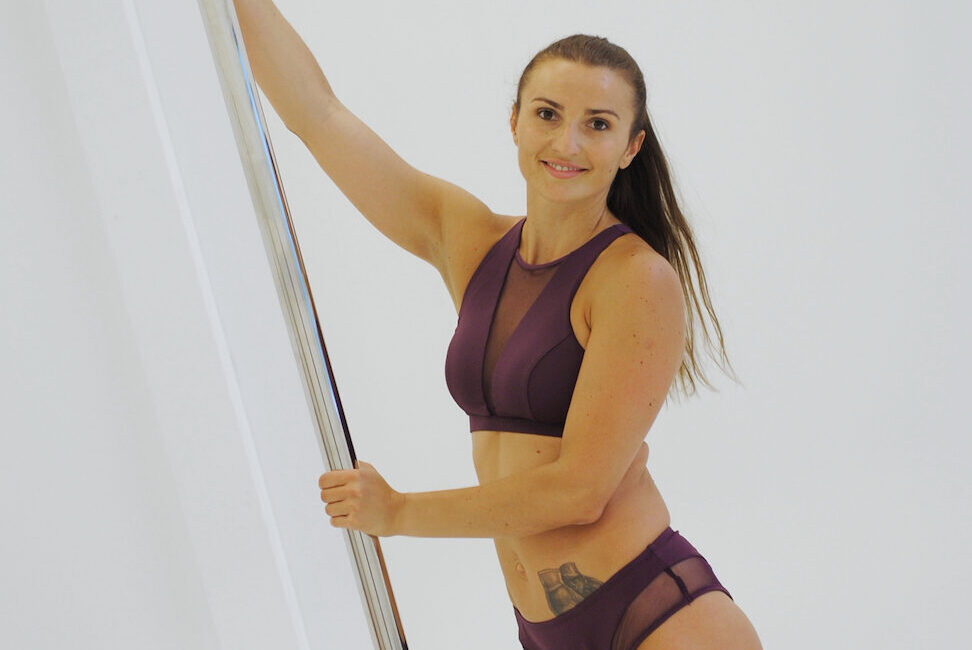 What is aerial dance?
Aerial dance is a name for the various disciplines such as pole dance, hoop and silks. The Swedish Pole & Aerial Association's work covers all disciplines and was founded to unite athletes, coaches, judges and enthusiasts.
Do you have to be well-trained to start practicing pole dancing or aerial hoop?
No, you do not need to be well-trained to start practicing poledance or any other form of aerial dance. The forms of training are suitable for everyone who wants to learn, but of course students can have different starting form depending on whether they have been very active earlier in their lives. With us, you learn the basics and then develop confidently at the pace of your choose.
Do you have to be lightly dressed to practice poledance?
As a beginner, you can wear anything. We recommend you wear optional training clothes that you are comfortable in. At levels after beginners, you will be quite limited in figures and tricks you can do if you do not have a grip on the pole, which normal clothes do not provide. And when you do advanced exercises hanging upside down, you want a good grip. If for some reason you can not or do not want bare skin, there are clothes made of materials that are adapted to give grip on metal poles. The clothes are sold by retailers of poledance clothes.
Do you have to wear shoes and dance sexy?
The more sensual poledance style contains more elements of feminine movements and where the use of high-heeled shoes is common. At JOM studio we like all styles of poledance. But we know that many are not completely comfortable with the sensual style, especially in the beginning. Therefore, we let it grow in courses or in groups where it fits and is definitely not forced on you who do not feel that it is your style. Do you not like the sensual style at all? Don't worry, then you get to work with figures, combinations and everything else fun instead. So everyone should feel comfortable participating in our courses.
Regarding shoes , these are always optional accessories in the classes where it fits. When performing advanced tricks on the floor, shoes can fulfill a certain practical function where they protect the feet and help with some transitions. But before we go head over heels, we recommend that you first become confident with basic technique in a beginner course.
Are you a pole or aerial hoop beginner?
If you are a complete beginner, we recommend that you take a beginner course, level 1 (or if mixed course level 1 & 2). In this way, you get a good introduction to the basics together with other beginners.
If you do not want to sign up for an entire course directly, you can also try pole dance through a private lesson or a try-on class. Try-on classes are set up sporadically between the course periods and here you get an 60 minutes introduction to the dance style. You also get to see our studio and a chance to ask some questions if you have any. You will find current course and nearby try-passes in our booking system Agendo.
Where can I train poledance in Jönköping?
JOM studio is Jönköping's only real pole dance studio and is run by Johanna N. de Agé and Maria Almroth. The studio has two dance studios of a total of 120 square meters with 8 and 9 poles that are 4 meters high. Our studio is placed on ground level and has no stairs. Read more about all our courses here .
Our studio is located at Kämpevägen 17 in Jönköping, at the eastern roundabout. If you come by car on Kämpevägen, enter opposite Syrgasvägen. The area has plenty of free customer parking.
If you take a bus, the nearest bus stops are Fridhem and Djursjukhuset . A bit from the western roundabout (Jordbrorondellen) is the bus stop Kämpevägen , which you also get off at and from there it's about 10 minutes walk to the studio. See the location on Google maps here.
You can't find your booking?
Our bookings are made through the Agendo booking system. You can access the booking through their app. If you have not logged in to Agendo before, download the app, click forgot password and select the e-mail address you used when you registered. You will receive an email link and can then choose a new password and log in to access your bookings.
If you have created an account through Facebook, a tip is to double-check the e-mail address you have registered there. If you want to change to another e-mail, you can update it on Facebook and log in again to Agendo and it will also be synced in our systems.
Digital key
To enter the studio, we use a digital key, Parakey. When you register, the key is automatically created and sent to the email address you use when registering. The first time you book a course, you will receive an email invitation directly from Parakey. Did you not receive the email? Download the Parakey app, enter your email address with which you registered for the course and press Forgot password!
For everyone's safety, the door to our studio is mostly locked. Your digital key is valid 15 minutes before and after the start time for your course. 10 min before for OP/OH.