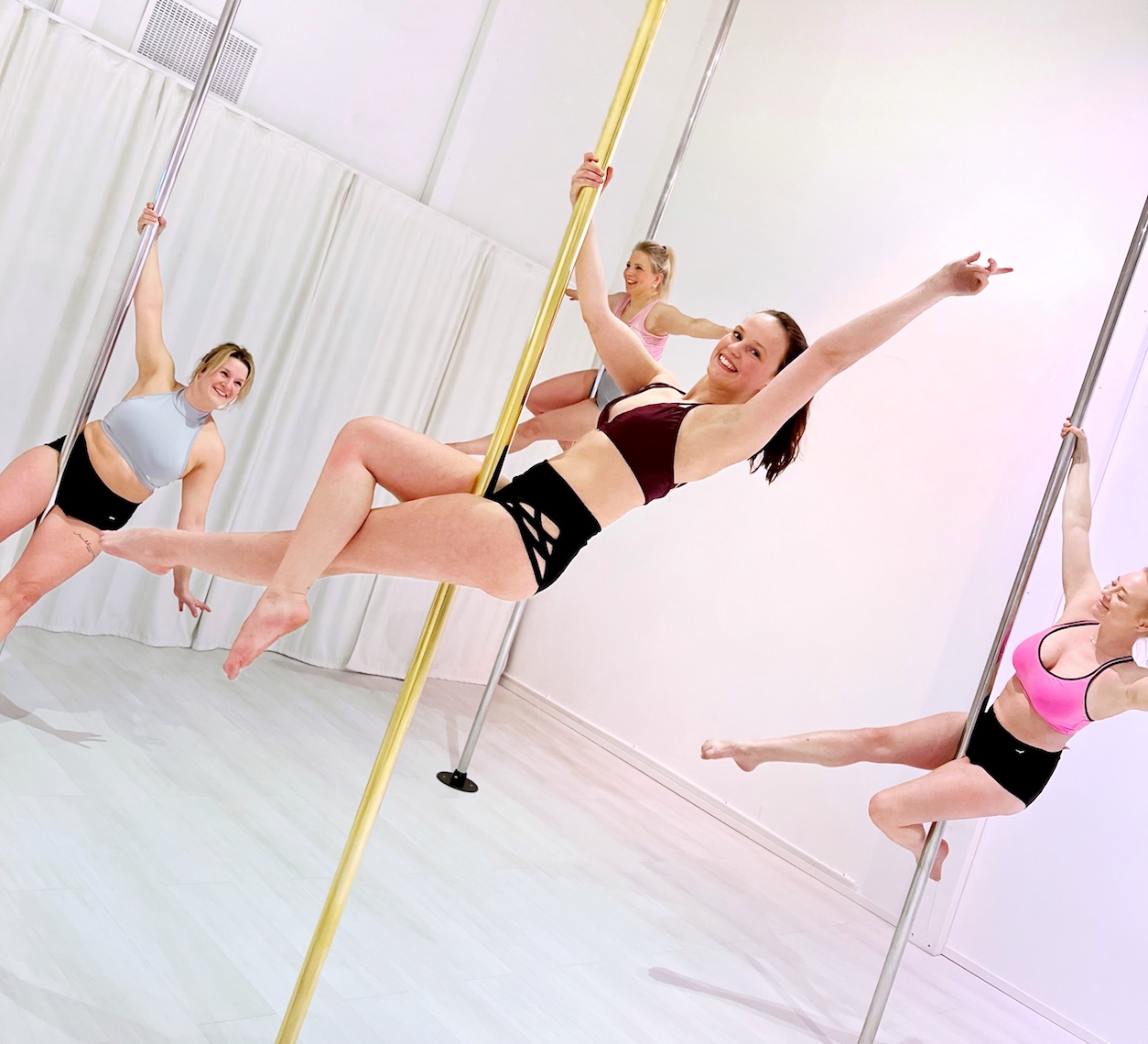 Open Pole/Open Hoop (OP/OH) is open training where you who practice in poledance or aerial hoop classes can come and train on what you have learned from classes you have participated in.
You are responsible for your own training at OP/OA (open pole, open aerial, open hoop) and need to have prior knowledge in each discipline. That's why open training is only for you who have attended classes. If you want to try poledance or aerial hoop for the first time, we recommend our intro classes instead.
Each week there are a certain number of open training sessions included for you who take a course (course member) and more sessions for you who are a plus member. We divide the sessions into two groups, ⭐OP/OH/OA (staffed sessions) and 💎OP/OH/OA+ (+sessions). Your first OP/OA session always need to be a staffed session, but once you receieved information about our routines you can also book +sessions. If there are no staffed session available in our schedule you can contact us and maybe we can make an other arrangement to meet up for a bookning.

You will receive the discount code in the e-mail with booking confirmation when you book a course. If you want to participate in more open training sessions per week than what is included when you take a course, then you can buy open training through several offers:
OP/OH occasional sessions – SEK 50/session per OP/OH+ for course members and SEK 100/session for both OP/OH and OP/OH+ if you don't participate in one of our pole or hoop courses.
Monthly card (månadskort) – SEK 500/month. Book optionally amount of open training sessions. Valid a month from purchase. Short mobility classes are included. Discount code for courses is not included.
Plus membership (plusmedlem) – SEK 375/month. Gives you a 45 % discount on most of our courses and classes. Included is a bigger amount of open training sessions, mobility classes, more sessions to make up for missed classes. Purchase for a minimum of three continuous months with an automatic renewal until cancellation.

You must book at least 2 hours before the scheduled time and cancel no later than 4 hours before. Regardless of which solution you have, we have a limit of a maximum of 3 active bookings at a time. So you can book as many sessions as you want as a plus member or with a monthly card, just not all of them at the same time. You can easily get an overview of the different sessions in the schedule.
Safe training in our studio is extremely important for us and therefore we have booking terms for you who want to participate in open training.
Rules and booking terms for OP/OA:
Experience – To be able to safely participate in open training, you need to have participated in at least four class sessions, so you know what to practice on since you are responsible for your training at OP/OA. If you have only participated in poledance classes, you can not train aerial hoop in open training, you need prior knowledge for each discipline.
Knowledge of the equipment – You are responsible for receiving information regarding the equipment you want to use, such as attachment for hoops and regulation of the static and spinning of the poles. Ask an instructor if you are unsure, and we will show you where the equipment is and how to use it. NOTE! Poles that are not already up in Room 2 may NOT be installed by students. For security reasons only instructors do this.
No student teaching – As a student, you do not teach other students during open training. Our instructors have the required skills, work with you during several class sessions and get to know your strength, any injuries you have and are responsible for not teaching exercises and figures that are too difficult. Of course, you may adjust if you see someone doing something obviously wrong. But to avoid injuries, we want to keep the responsibility of teaching with our instructors.
Respect each other's training – We often do open training with others. We make sure to respect each other so no one gets disturbed in their training. So if you have questions about technique or cool figures that you see students at higher levels do, feel free to ask an instructor about these instead, and we're happy to tell you more.
Repeat – Focus on what you can and have been taught in class with an instructor. It's easy to be in a hurry to learn all the exciting tricks and figures. But with an instructor by your side to ensure the right technique, you'll get a much safer and more secure training.
Digital classes – Digital combinations and training materials provided by JOM studio are ok to use at open pole. Other digital material, through for example social media or other channels and such used for educational purposes, we do not authorize you to use in JOM studio without permission.
Filming / photography – if you want to take photos or film yourself, it's ok. But make sure no one but yourself gets on the film, unless they have given you their permission. Everyone should feel safe to train in our studio, so it is important to protect each other's integrity.
Access – For everyone's security, we keep the studio locked. A digital key is automatically sent to you email when you book. That's why we do not let each other in, everyone who has booked is responsible for using Parakey's key to enter the studio. Therefore, it is important that you have downloaded the Parakey app to your mobile so you can unlock the door to the studio using your mobile. Do you want to bring a friend who does not already dance/train with us? Then our intro classes between the course periods are perfect. Keep an eye on upcoming intro sessions in Agendo.
Cleaning/Hygiene – Carpets and equipment used should be wiped with alcohol after use. If you use shoes, you can wipe off the worst marks on the floor after your workout with a micro cloth and water. Nail polish and lipstick make marks that are difficult to remove on our floor. Therefore, we wish that you do not have lipstick during floorwork where the face can come into contact with the floor. We would also prefer if you use socks if you have colored nail polish and do not have to be barefoot in your floorwork training.
Keep in mind that if it says OA (Open Aerial), all poles can be removed at the specific time. Therefore, you can not count on practicing poledance on those sessions. The same applies to aerial hoop and sessions listed as Open Pole. You can book OP/OH via Agendo.
Checklist before/during/after your training
We keep a good atmosphere and greet each other so everyone feels welcome!
We take turns choosing music so we get a great mix.
Take off jewelry, watches or other metal objects that can scratch the poles.
Disinfect the poles and other equipment you used during your training.
Put the equipment back in place.
Turn off the lights and close all doors unless there are other activities in the studio. The spotlights in the dance rooms are handled only by staff. On early morning sessions, the spotlights in the dance halls can be switched off/on via timers. If they are of you'll use the other lights.
Feel free to help by bringing your own microcloth. In this way, you relieve the studio's amount of laundry as we wash all microcloths after each use.