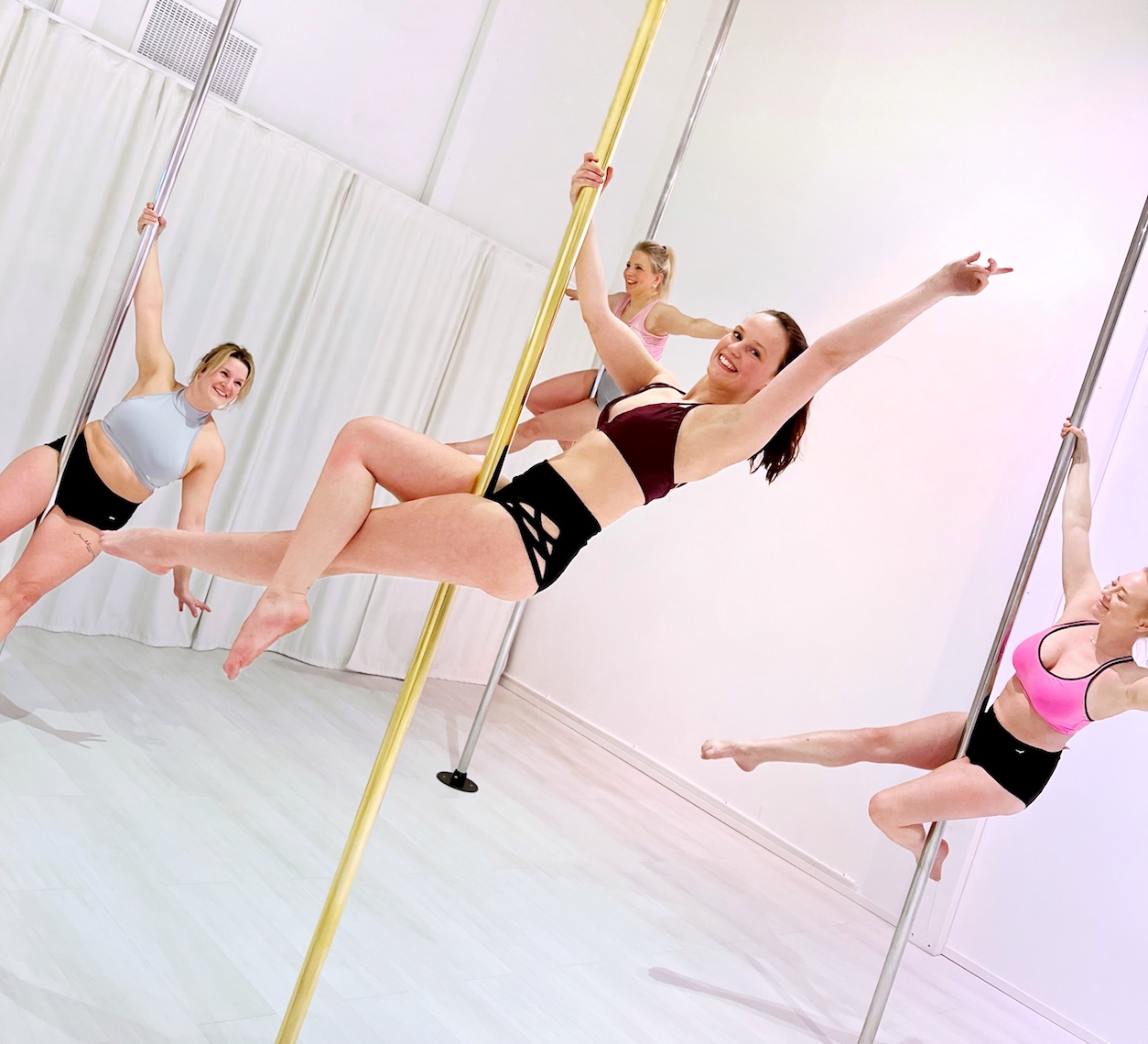 We have courses in pole dance, aerial hoop, chairdance, high heels, stretch and mobility and more. In addition to taking a course, you have more opportunities to adapt your training with us. You can buy stand-alone drop-in classes, extra opportunities for your own training, get a plus membership with access to mobility classes and digital material or get closer to your training goals with private lessons.
💎PLUS MEMBER – Become a plus member and get a 45% discount on almost all courses and classes. Read more about our plus membership here.
💃COURSE PERIOD WEEK 44-51 – Independent focus classes can be purchased throughout the course period. The classes are booked via Agendo.
🎉COURSES SPRING TERM 2024 – Our courses for spring term 2024 are during weeks 2-9.
💜TRY OUT CLASS JAZZ FUNK – Wednesday 8 December between 5.30-6.30 PM.
💜TRY OUT CLASS POLEDANCE – Sunday 10 December between 2.00-3.00 PM and Thursday 4 January between 7.00-8.00 PM.
💜TRY OUT CLASS AERIAL HOOP – Wednesday 3 January between 6.30-7.30 PM.
Our courses
The prices and dates for the courses can be found in Agendo. Click on the "boka" button above. If a course is full, you can register on the course's waitlist.
Our standard courses in poledance are normally 8 sessions and each class session is 75 minutes long. We divide the courses according to levels of advancement, where level 1 is beginner level. Our poles are 4 m high, placed at a distance of 2-3 meters. Each student gets their own pole.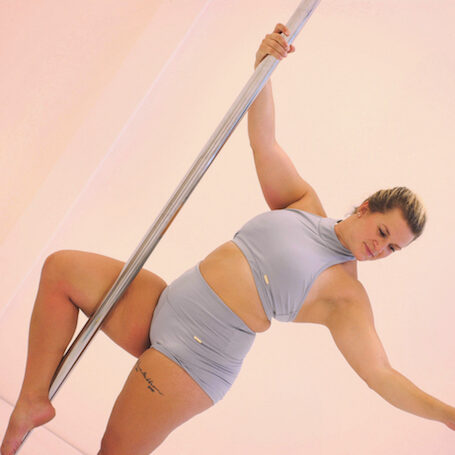 Standard courses
Our standard courses in poledance are normally 8 sessions and each class session is 75 minutes long. We divide the courses according to levels of advancement, where level 1 is beginner level (read more). Each student gets their own pole. In our standard courses in pole dance, we work a lot with basic technique, combinations and choreography. The style of dance and choreography is adapted to the participants and group. From 14 years old.
In Heels
sensual pole
Our Heels courses are based on more sensual styles of poledance. Here you work with legwork, floorwork, beautiful lines, feeling and attitude as well as finding your own personal style. If you love dance and hot choreographies, then we recommend you try one of these courses. Read more about our difficulty levels here. From 16-18 years (read info in bookingsystem Agendo).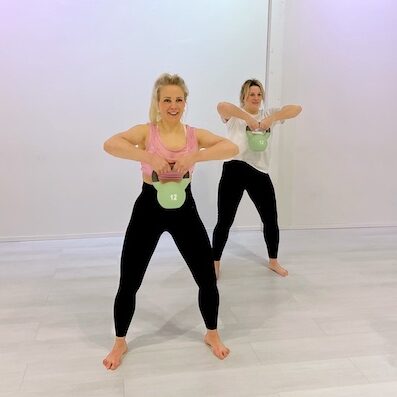 Strength, mobility & stretch
We also have a varied range of courses in strength, mobility training and stretch. Here we put extra focus on key tricks, strength combinations, injury prevention training or mobility. The courses can include pole/hoo movements, but also a lot of exercises of pole/hoop. From 14 years.
Chairdance
Here we take the help of a chair to work with different combinations that we put together into a choreography. We mix dance that is feminine, flirty and has elements of attitude and you choose if you want to wear heels.
Aerial Hoop – lyra
(coming VT22)
Aerial hoop (lyra) is a suspended steel ring used for aerial acrobatics. In beginner classes, you learn to get up from the floor and work with simpler figures such as Delilah, Man in the Moon, Angel and Leg hangs. Choreography are also common elements in hoop classes. Our classes are divided according to advanced levels, where level 1 is for beginners. From 14 years of age.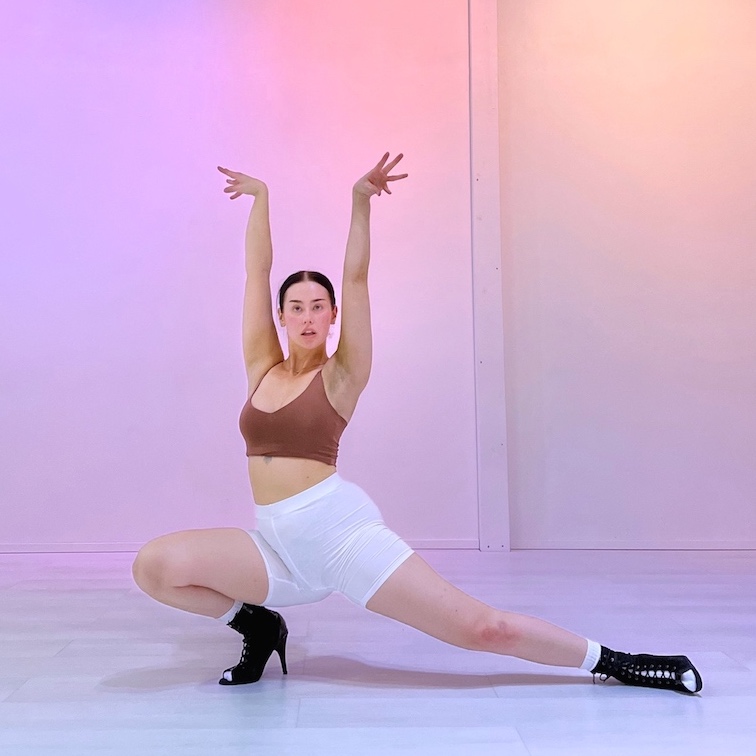 Commercial Heels
Here you will dance a wonderful mix of different styles such as jazz, modern, pop, heels and twerk. We focus on finding our own style and dance that is hot, emotional and sexy. The style can often be danced with or without heels.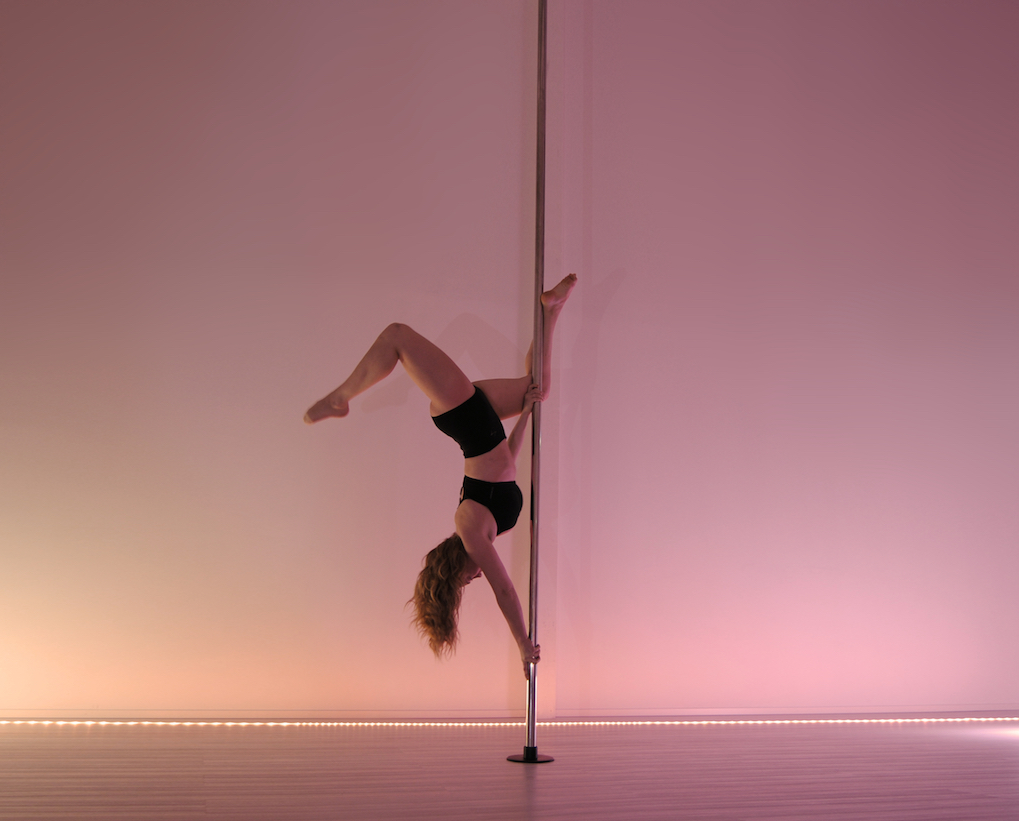 Private lesson
Would you rather train alone than in a group, get help with supplementary training or maybe just become better at pole dancing or aerial hoop? Then we can offer private lessons where you for 60 minutes get an individualized lesson with one of our instructors. All of JOM studio's owners and instructors are trained personal trainers, dieticians, instructors or have other training in health and wellness and we are happy to help you with your training goals.
Private lesson of 60 minutes in pole dance and lyre costs SEK 550/h and is booked through Agendo. You can also book together with a friend for a discounted price, SEK 400/h per person. Enter the discipline you want to train (poledance or aerial hoop), level and any other wishes under Customer Message when you register. If scheduled times do not meet your wishes, or if you want help with other training, you are welcome to contact us via info@jomstudio.se and we will see if we can find another solution that suits you.
What to bring to your class
For a lot of figures and tricks n poledance you need bare skin to get a grip on the pole. However, in our intro and beginner courses are adapted so you can participate with which ever clothes you feel comfortable in.
Make sure to bring a water bottle, warmer clothes to wear over your pole wear and socks as the classes can contain a mix of elements, where we work on both the pole and the floor. When we do exercises on the floor it can be comfortable with soft clothes on, as well during the class to keep warm when needed.