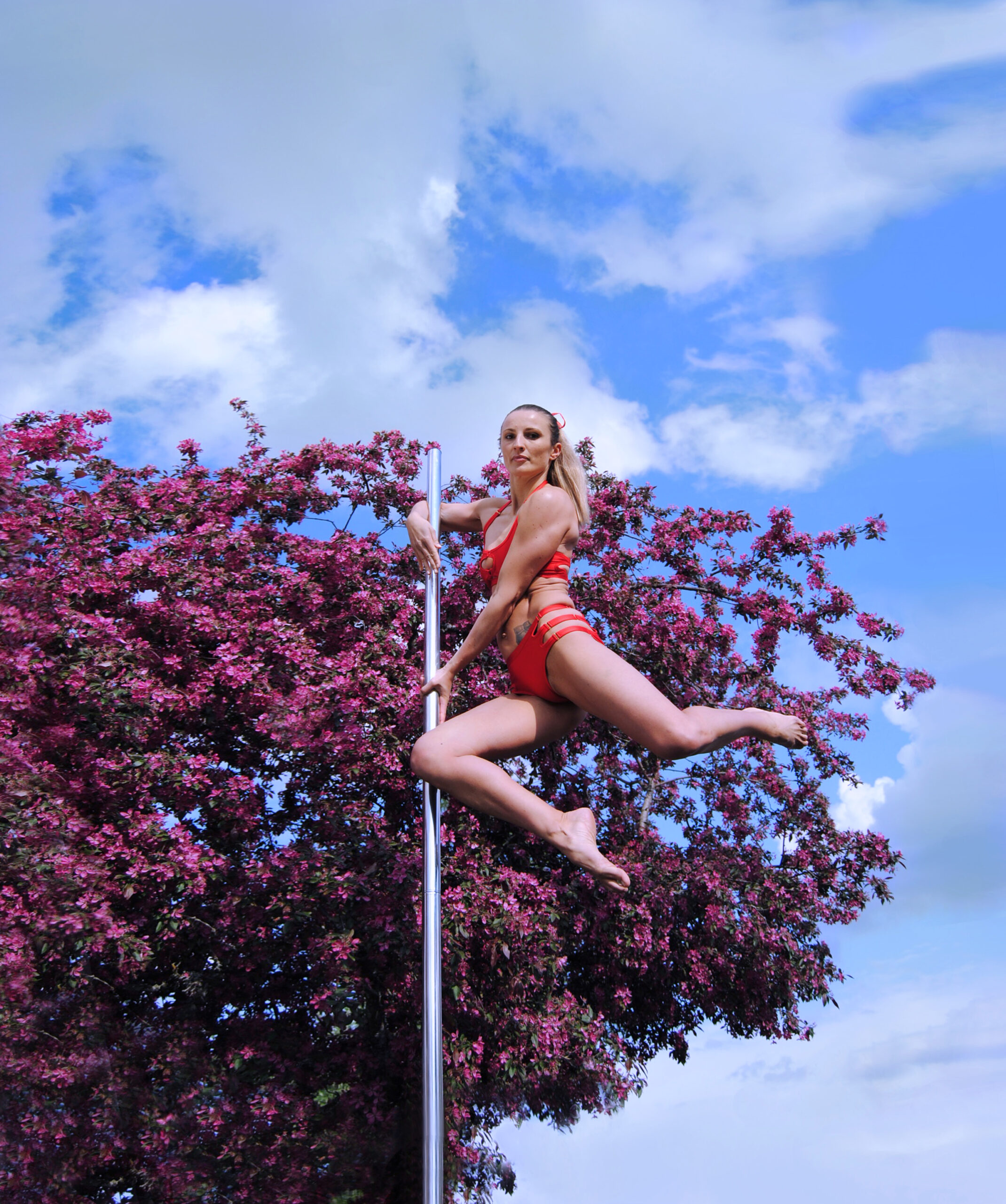 You have several different options to adapt your training in our studio. You can buy drop-in classes, extra open training sessions, get a plus membership and get free access to mobility classes, digital material, or get closer to your training goals with private lessons.
We have courses in poledance, lyra, chairdance, stretch and mobility and our classes is 60-90 minutes long. In poledance each student gets their own pole. Several sessions of OP/OA (open training) is included every week when you take a course.
Make up for missed classes or buy extra drop in sessions for SEK 225/session. You will need to have previous experience but you don't have to take one of our courses to buy a drop in class.
Open training (OP/OA), SEK 50/session for our students and SEK 100/session if you don't participate in one of our courses. Experience is required. This is for extra sessions than what's included when you take a course.
SEK 375/month. Gives you a 45 % discount on most of our courses and classes. Included is a bigger amount of open training sessions, mobility classes, more sessions to make up for missed classes. Purchase for a minimum of three continuous months with an automatic renewal until cancellation.
60 min poledance or aerial hoop costs SEK 550/h or go with a friend for SEK 400 per person. Book a private lesson through Agendo.
Make up for missed classes without extra costs. You can use the benefit in the courses that have vacancies or in selected drop-in classes.
Plus member
Our plus membership is an offer for you who are in need of more flexible training or just want more training. As a plus member you pay a fixed monthly fee and it includes:
45% discount on most of our courses and classes, such as poledance, aerial hoop, chairdance etc. The discount is also included in many other activities such as workshops and theme classes.
Free Open Pole/Open Aerial, more varied times and a bigger amount of sessions per week to choose from.
Drop in – No missed class opportunities. In addition to the drop-in classes that occur between every course period, in which everyone can make up for missed classes, you can also make up for missed classes in all the drop-in classes that come continuously during each course period. The 45% discount also applies if you haven't missed opportunities, but just want to buy extra sessions.
Shorter stretch and mobility classes – Single opportunities at varying times where we work with mobility, stretch, injury prevention, exercises and relaxation.
Digital material – Access to our digital material of combinations and training tips. Perfect for you who easily get dry of ideas during your own training.
Cabinet – A lockable cabinet where you can store grip aids, your shoes, clothes or anything else you need for your training in the studio. We have a limited amount of cabins so only in case of available cabinets.
Price for plus membership is SEK 375/month. You purchase for a minimum of three continuous months and the membership is automatically renewed until you cancel it. Each plus membership is personal and the discounts only apply to you who is registered for the purchase. The discount does not apply to gift cards, private lessons or in combination with other discounts.
For example, if during six months you attend two standard courses in poledance (SEK 1 750 and 8 classes each course) and are a plus member, the cost including a 45% discount on the courses will be on average about SEK 115 higher/month compared to if you attend two standard courses without a plusmembership (discount). But with the plus membership you will also enjoy all the benefits that's included.
If you do not already take any of our courses but want to become a plus member? Then you have to book a staffed OP/OA session (⭐) for the first time so an instructor can meet you and give you information about the studio. Be sure to be on time when the session begins. You can easily get an overview of the different sessions in the schedule.
Missed classes mainly applies to pole dance and aerial dance

If you are registered for a course (poledance or aerial dance), you have a reserved place in that course. But in case of vacancies or free spots you can make up for missed classes in another course, as long as the level suits you. You use the benefit in the courses within the same price range and that have vacancies when the course starts. You can find these classes under a separate menu bar in Agendo (Drop In). In our drop-in classes, we mix the levels and adapt to the participants for each occasion. If you will miss a class session you can cancel it in Agendo.
You are responsible for keeping track of how many class sessions you have attended. We do not always have the opportunity to work with administrative tasks when we are instructing classes, which limits our ability to quickly obtain the information for you. Therefore, it is good if you keep your own notes about your presence. This way you will know for sure if you can book at no extra cost and can book directly.
Make up for missed class sessions usually does NOT apply to other dance courses such as chairdance, commercial twerk mix etc. as we often do not have as many classes of those styles. Cancellation of individual courses – if you attend a course and want to cancel specific occasions that you will miss, you can do this through Agendo. This does NOT apply to cancellation of the entire course (read our booking conditions to see what applies there).
Drop in – poledance and aerial hoop
Our drop in classes are perfect if you want to buy extra training sessions or adapt your training. The classes are 75 min long and we welcome students at mixed levels. Therefore, we also adapt the teaching to those who participate in each class session. You do not have to take a course with us to buy drop-in class, however you will need to have previous experience. Drop in is booked through Agendo and you can book and cancel sessions in advance if you know that you will miss class sessions in your regular course.
⭐Drop in – free for all class participants who need to make up for missed classes, otherwise purchased for SEK 225/class.
💎Drop in+ – free or with a discounted price for plus members, otherwise purchased for SEK 225/time.
Drop in classes are always pole classes if nothing else is specified.
Because it is an open level, meaning students at different levels of advancement participate in these classes, previous experience in poledance or aerial hoop is required. You can not book a drop in class if you want to try poledance for the first time. If you want to try poledance or aerial hoop for the first time, we recommend our intro classes instead.
Try out – intro classes
Before each course period, we usually have single try-out classes. These classes are perfect for you who want to try one of our dance styles before you buy an entire course. The classes are 60 minutes and a great way to get an introduction to the dance style and our studio. These classes also provide a good opportunity for us to answer all of your questions. Keep an eye in our booking system for upcoming try out or intro classes (under meny Prova på or Intro).
Short classes (kortklasser)
Continuously during every course periods, we have shorter mobility, stretch and relaxation classes of 20-30 min. These classes come at varied times and are included at no extra cost for you who are a plus member or have a monthly card. These classes can not be purchased otherwise.
Private lesson
Would you rather train alone than in a group, get help with supplementary training? Or maybe just get better at poledance or aerial hoop? Then we can offer private lessons where you for 60 minutes get an individually tailored lesson with one of our instructors. All of JOM studio's owners and instructors are trained personal trainers, dieticians, instructors or have other educations in health and wellness. We are happy to help you further with your training goals!
Private lesson of 60 minutes in poledance or aerial hoopcosts SEK 550/h. You can also book together with a friend for a discounted price, SEK 400/h per person. You book a private lesson through Agendo.
Enter the discipline you want to train (pole dance or hoop), level and any other wishes under Customer Message when you sign up. If our offered schedule do not meet your wishes, or if you want help with other training, you are welcome to contact us by email to info@jomstudio.se and we'll see if we can find another solution that suits you.
Open training
Open Pole/Open Aerial (OP/OA) is open training where you who practice in poledance or aerial hoop classes can come and train on what you have learned from classes you have participated in. You are responsible for your own training at OP/OA and that's why open training is only for you who have attended classes. Read more about open training here.